Parsyl Wins U.S. Department of State ACE Award for Sustainable Supply Chain Leadership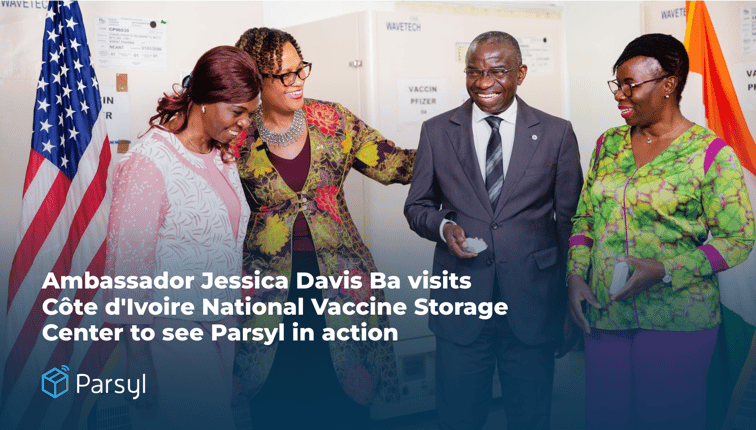 Award recognizes Parsyl's innovative use of data and technology to ensure safe and effective distribution of vaccines with 80,000 temperature sensors deployed throughout African supply chains
October 30, 2023 - Washington DC - Parsyl proudly announces its prestigious win of the 2023 Secretary of State's Award for Corporate Excellence (ACE), a coveted recognition given by the U.S. Department of State Secretary Antony Blinken. This distinguished award celebrates Parsyl's leadership in tackling global challenges with a steadfast commitment to the highest standards of business conduct. Parsyl was nominated for the award by the U.S. Embassy in Côte d'Ivoire in recognition of its work monitoring vital vaccine supply chains in Côte d'Ivoire and across the African continent. Secretary Blinken presented the awards today at the State Department in Washington DC.
Parsyl is a supply chain technology and insurance company with expertise in risk management and cargo insurance for perishable goods. Currently, Parsyl is monitoring vaccine shipments valued at over $700 million across 12 different African countries. It operates at a national scale in Côte d'Ivoire, Senegal, Niger, Burkina Faso, the Democratic Republic of Congo and Burundi. By providing enhanced visibility into supply chains, Parsyl empowers nations to identify areas for improvement and safeguard investments in life-saving vaccines.
"Parsyl is sharing American ingenuity by creating innovative partnerships for the benefit of our global community. This is an American company making critical investments to strengthen health care across Africa - supporting the people, peace, and prosperity of Côte d'Ivoire and the region," said Jessica Davis Ba, Ambassador of the United States of America to Côte d'Ivoire.
"I've seen firsthand the challenges in distributing vaccines in environments with limited infrastructure. I am deeply proud of the technology we have built and the partnerships we have forged with Ministries of Health on the ground in pursuit of the same goal - to protect vaccines, support communities, and save lives," said Souleymane Sawadogo, Chief Global Health Officer, Parsyl.
About the ACE Award
This year marks the Award for Corporate Excellence's 24th anniversary. Established in 1999, ACE recognizes the crucial role U.S. companies are playing in elevating global standards of business conduct. Together, these companies are leading the way in addressing some of our greatest global challenges.
The U.S. Department of State is committed to working with companies to further responsible business practices worldwide and to recognize their efforts to improve lives at home and abroad. For more information, please visit: http://www.state.gov/ace
About Parsyl
Parsyl is a fully integrated, data-powered insurer for essential supply chains and is the leading provider of smart vaccine monitoring solutions in emerging markets. Our vision is to build a world where everyone, everywhere can trust the quality of goods they rely on, from the foods they eat to the medicines they need. Parsyl's combined IoT and software solution helps customers understand, mitigate and insure risks to goods as they move through the supply chain, both in transit and storage. Parsyl's risk management technology is deployed in over 80 countries and is currently monitoring vaccines for more than 200 million people. Parsyl is based in Denver, CO and can be found at www.parsyl.com.