Lineage Logistics Partners with Cold Chain Cargo Insurer Parsyl to Eliminate Waste from Food Supply Chains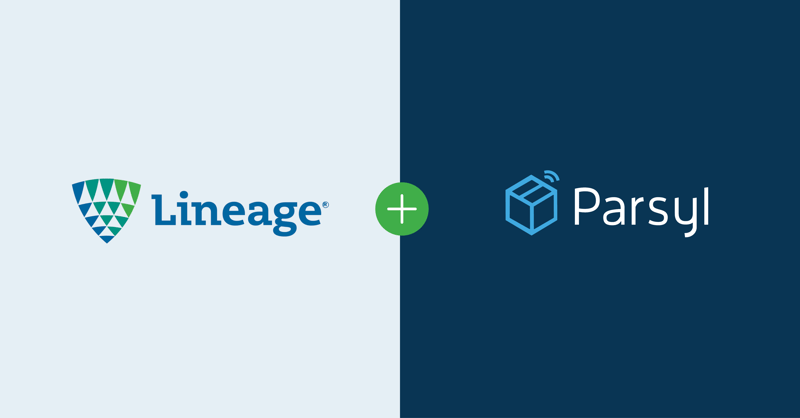 Strategic partnership introduces a new insurance program that will leverage data to enable improved cargo insurance solutions for Lineage customers in the United States
January 11, 2023 - Denver, CO – Parsyl Inc, a data-powered insurer for essential supply chains, today announced a strategic partnership with Lineage Logistics, the world's largest and most innovative temperature-controlled industrial REIT and logistics solutions provider. The partnership will tap into Lineage's best-in-class, data-driven logistics capabilities to bring more competitive cargo insurance solutions to Lineage customers in the food and beverage space.
Based on typical insurance premiums, Lineage customers are estimated to spend more than $500 million a year on cargo insurance. Many are overpaying because traditional insurers have limited data on what they're insuring and pricing can be opaque. Parsyl uses data from multiple sources to create tailored coverage based on each customer's unique risk profile which enables more competitive pricing, better coverage and more efficient claims service.
"Lineage is continuously committed to innovation and challenging the boundaries of what is possible to achieve for our customers, and that commitment now includes their insurance needs. We are proud to facilitate a technology-driven insurance solution via Parsyl in support of driving customer value and fortifying a stronger food supply chain," said Sudarsan Thattai, Lineage's CIO and Chief Transformation Officer.
"Parsyl and Lineage share a vision to create a more sustainable and efficient supply chain. Through this partnership, Lineage customers can benefit from more comprehensive and competitive insurance coverage thanks to the strong logistics capabilities provided by Lineage," said Ben Hubbard, CEO of Parsyl.
Any Lineage client who moves perishable goods through Lineage facilities or with Lineage transportation is eligible for this insurance program with Parsyl. Parsyl reserves the right to determine final eligibility and pricing. To find out more, customers can request a quote from Parsyl via their insurance broker or visit www.parsyl.com/lineage.

About Parsyl
Parsyl is a fully integrated, data-powered insurer for essential supply chains with a mission to end the days of ship and pray. Parsyl offers a full suite of A-rated cargo insurance solutions, operates Syndicate 1796 at Lloyd's of London and is fully licensed to operate in all 50 states. Parsyl's combined technology and insurance solution helps customers understand, mitigate and insure risks to goods as they move through the supply chain, both in transit and storage. Parsyl is the 2022 Insurance Company Innovation of the Year award winner from the European Risk Management Association. Parsyl is headquartered in Denver, USA with an office in London, England and can be found at parsyl.com or @ParsylHQ.
About Lineage Logistics
Lineage Logistics is the world's largest temperature-controlled industrial REIT and logistics solutions provider. It has a global network of over 400 strategically located facilities totaling over 2 billion cubic feet of capacity, which spans 20 countries across North America, Europe, and Asia-Pacific. Lineage's industry-leading expertise in end-to-end logistical solutions, its unrivaled real estate network and the development and deployment of innovative technology help increase distribution efficiency, advance sustainability, minimize supply chain waste, and, most importantly, as a Visionary Partner of Feeding America, help feed the world. In recognition of the company's leading innovations and sustainability initiatives, Lineage was a 2022 U.S. Best Managed Company, No. 3 in the 2022 CNBC Disruptor 50 list, No. 17 in the 2021 CNBC Disruptor 50 list, the No 1. Data Science company, and 23rd overall, on Fast Company's 2019 list of The World's Most Innovative Companies, in addition to being included on Fortune's Change The World list in 2020. (www.lineagelogistics.com)
Lineage is not licensed to underwrite or sell insurance policies in any state, and nothing herein should be considered an offer by Lineage to underwrite or sell any insurance policy. Lineage holds a minority interest in Parsyl Insurance Services LLC.